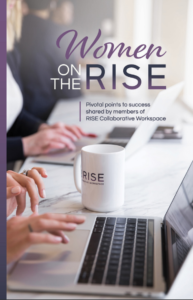 The following excerpt, written by Shannon Moenkhaus, CFP® is from Women On The Rise, a book published in 2018 by the Rise Collaborative Workspace. The entire collection of essays, written and edited by women entrepreneurs, is available for purchase or download.
Women and Wealth
What I Learned About the Workforce & What it Means to be a Woman
My first real job out of college was with a large national broker dealer. I can still remember my first interview— seeing all those fancy cars in the parking lot and brokers in their expensive suits, high-fiving each other across their desks. Right then, I knew this was the
place for me. I wanted to be a broker, making money and having fun along with the rest of them. I was offered a position as a broker assistant and I took it, feeling confident I would work my way toward becoming a broker.
After working there for a few weeks, I started to see things I had initially missed. While nearly all the brokers were men, all the administrative and operational jobs were held by women. They were smart women, with extensive work and life experience, who could have held any number of professional positions.
I continued with my plan to become a broker—after all, there was absolutely no reason a woman couldn't hold that role. I inquired about joining the broker training program, only to be told I did not qualify. I did not have a "natural market" for prospects. However, I took note as one male college graduate was hired after the next, and placed directly into the broker training program. I was no different than they were; why couldn't I join the program?
I was raised to believe I was equal to men, and accomplishments didn't depend on gender, but hard work. My parents instilled in me the belief that I could do anything I chose, and a "man's job" should be no different than a woman's. I felt I had always been treated equally from elementary school through college graduation. Yet there I was, twenty-three years old, realizing the work world was different. I was somehow now considered to be less than my male colleagues.
I still remember how shocking this was. I felt as if I had been living in an egg my entire life—warm, cozy, and protected. Now, my egg had cracked, completely shattered onto the ground at my feet. All I wanted to do was reassemble my shell, piece it back together, and crawl back inside to escape from this strange new world where I did not like my pecking order.
After multiple failed attempts to join the training program, I found it difficult to come to work. I was embarrassed to be answering phones and doing menial tasks. I felt as though I was wasting my degree and my potential typing letters, while my male counterparts were launching their careers through an intensive multi-month training program. Even though I knew I was capable of more, I was beginning to doubt myself.
I looked around at the other women working alongside me. No one was talking about what they learned or what they might do next. Were they happy there? How many of them felt just like I did, but decided it was easier to consign themselves to the job at hand?
The men and women in the office seemed to be divided by an invisible fence, with plenty of gender-bashing on either side. Recognizing this, I no longer felt shame about my role. I felt anger—hot anger—and lots of it.
I began to think about finding a new job. I spoke with another brokerage firm, but once again heard that I had "no natural market." After a tour of the office and an introduction to some of the youngest, all male associates, I was beginning to wonder about investments as a career. Could there be more here I wasn't thinking of?
Not ready to settle, I continued my search. I began looking into opportunities at accounting firms, with departments that offered not only income tax planning, but investments, cash flow modeling, and estate planning as well. I was intrigued. I immediately sent resumes to a couple of these big five firms. After multiple rounds of interviews, I received two offers. I chose the one with a female partner who espoused education, and I never looked back.
My first day was a welcome surprise. I was given all the resources I would need for success, including a full training calendar. As I headed toward my car to go home, I felt good. Different. Taller, even. (If you've ever seen me in flats, you'll know this was significant!)
Right away, I noticed the associates, managers, directors, and partners were both female and male, across a staff of hundreds of employees. What a refreshing change! Did I say I wanted training? I got my wish and then some. I was sent to conferences, took doz- 94 | Women on the RISE ens of online courses, read industry materials, and began studying for the Certified Financial Planner (CFP®) program.
Not only did this place look different, it was different. Everyone was expected to learn and work hard, and when you did, you were recognized. I was in the right place, part of a growing team. Having opportunity, support and resources—and being held accountable for my work—makes all the difference in the world.
Not only was I happy to be out of my shell, I was proud of myself for breaking through. I wondered, "Could I help other women do the same?"
This experience shaped my path forward. Let's face it—the financial services industry has ignored women for decades. Not just women advisors, but more importantly, women investors.
As I continued my career, I began to realize that what I experienced as a young woman entering finance is similar to what women investors face. While women are smart and capable, the industry was designed to cater to their husbands, brothers, and fathers. Historically, what women brought to the table was not valued. And for many women, their experience in working with a financial advisor left them questioning their ability.
The financial services industry also isn't easily adaptable to the realities of being a woman. We're at a disadvantage from the start—earning fewer dollars than men, often due to breaks in the workforce, as well as the very real gender gap (which is shrinking but still exists). We also tend to live longer than men, prompting those questions, "Will I have enough for retirement? How do I ensure I have extra to help support aging parents and children? Will I be okay?"
This uncertainty can take the wind right out of our sails. Working in this industry, I started to see women disengage and delegate financial management. Not only the day-to-day decisions, but the big strategic ones as well. This is when I realized it was time to swing the pendulum in the other direction. It was time to create a gender-balanced business—one that helps women build financial competency and, ultimately, confidence. One that gives women a place where their voices are heard, their opinions matter, and their unique life experiences are considered. A place where their desires and fears are placed center stage.
It all begins with the end in mind.
We all need permission to dream—to imagine what is possible in our futures. How do we want to support our communities or families? Only after we have defined our purpose, filled with significance and meaning, can we begin to figure out how money fits into this vision. Now, we are making important progress. Guess what comes next? Empowerment. Freedom. Time to unwind, reengage, and exit the work hamster wheel.
As a woman who had to build my competency and rebuild my confidence, I wanted to help other women do the same. That's why I adopted a gender lens, to build a wealth management practice for women and the men who love them. One that helps each of us understand the big picture, our motivations and our hopes and fears, and the lasting effects of our financial decisions.
I am thankful for my parents for raising me with confidence and high efficacy, believing I am worthy of success. I am also appreciative of those early experiences, as they had a profound impact on my emotions and drive.
I have come full circle. I started in this industry as a woman who was ignored, along with my peers. Now, I have the courage to live my life, true to myself and not the life others expect of me. I help women own their own financial futures, full of purpose and contentment, ready for the life each of us wants to live.
If you educate, engage, and empower a woman, then you can sit back and watch her fly. Indeed, I am enjoying the packed flight.
She took a leap of faith and grew her wings on the way down.
—David Brinkley